Dive into North America's maritime legacy on board the Ocean Navigator, a unique coastal vessel, that is able to navigate the intricate locking system of the St. Lawrence seaway and the 5 Great Lakes! With a caring crew of 84 pampering no more than 202 guests, you'll feel at home from the moment you step onboard. Whether it's a favorite cocktail served to you on deck, fresh hot coffee in the morning in your room, or the delicate chocolate on your pillow ensuring sweet dreams, serving you is our pleasure. Set sail on a Great Lakes adventure filled with intrigue, charm and marvels of nature. Explore the dual American-Canadian culture of Sault Ste. Marie, the throwback lifestyle in Mackinac Island, the rich innovations of Detroit and Cleveland and the majesty of Niagara Falls.
August 5-15, 2023 | 10-Day Cruise/Tour
Chicago to Toronto | Featuring Lake Michigan, Lake Superior, Lake Huron, Detroit River, Lake Erie & Lake Ontario
Aug 5 | Travel to Chicago, IL. Upon arrival at the Chicago airport, you will be transferred to your hotel, located in Downtown Chicago (Magnificent Mile). The evening is yours to become acquainted with the city. For your convenience, the cruise line's Hospitality Desk will be located in the hotel, and their friendly staff can assist with everything from general questions about your upcoming voyage, to reserving premium experiences to provide you with dining, entertainment, and sightseeing options to maximize your time in Chicago.
Embassy Suites by Hilton, Chicago
Aug 6 | Chicago, IL & Milwaukee, WI | Embarkation. The morning is yours to explore Chicago on your own. From the Navy Pier to towering skyscrapers to regional cuisine and a quirky dialect, this city represents the heart and soul of the Midwest. This afternoon you will be  transferred to Milwaukee, where you embark onto your floating hotel, the Ocean Navigator for the next 11 days!
Overnight: Ocean Navigator – (B,D)
Aug 7 | Scenic Lake Michigan Cruising. Relax and enjoy the view on your own time on this peaceful lake cruising day. Sip a midmorning consommé and breathe in the fresh lake air on the upper deck.
Overnight: Ocean Navigator – (B,L,D)
Aug 8 | Mackinac Island, MI. Guided by a comfortable vessel, visiting Mackinac Island is an excellent option for a getaway. This island is a unique destination famous for its car-free streets and fudge. It features many family-friendly activities and attractions that appeal to various interests, including a butterfly house. Although Oldsmobile was making automobiles in nearby Lansing, Mackinac Island banned cars – a distinctive characteristic that remains to this day. Trapped in time and surrounded by staggeringly beautiful landscapes, visitors have found this treasured landmark to be the ideal vacation spot for centuries. No cars. No chain hotels. Just world-famous Mackinac Island Fudge, historic Fort Mackinac, and stunning views of the Straits of Mackinac from the colossal porch – the world's longest – at the legendary Grand Hotel, which opened in 1887.
Overnight: Ocean Navigator – (B,L,D)
Aug 9 | Sault Ste. Marie (Soo Locks), MI.
Sault Ste. Marie or "the Sault" is located in Michigan and Ontario. There are two separate cities side by side in different countries; bridged together by name and commerce. Culture beats through street veins that connect these harbors to the distinctly different North American countryside beyond each border. Sault Ste. Marie is the oldest city in Michigan and among the oldest cities in the United States. Sault Ste. Marie is home to historical sites, lighthouses, pristine nature preserves, and the spectacular Tahquamenon Falls – it has a drop of nearly 50 feet and is more than 200 feet across. Peer into the past at the preserved fur traders' settlement homes on Water Street on the included tour. You will also view the fascinating Soo Locks built by the Fairbanks Scale Company, despite challenging construction conditions. The system of two locks, in tandem, each 350 feet long, are the busiest locks in the world and include the largest lock in the Western Hemisphere.
Overnight: Ocean Navigator – (B,L,D)
Aug 10 | Little Current (Manitoulin Island), Ontario/ CA. The port of Little Current is quite literally the gateway to the world's largest freshwater island Manitoulin, considered sacred by the native Anishinaabe people. Recognized as one of the best freshwater boating regions in the world, an evening stroll along the boardwalk will reveal boats from all over the Great Lakes Basin. Little Current's main street is home to many stores and shops, some with a long and rich history. Turner's, which opened its doors in the late 19th century, is still operating today and is still run by the Turner family.
Overnight: Ocean Navigator – (B,L,D)
Aug 11 | Scenic Lake Huron Cruising. These waters are home to a vast variety of wildlife – trout, salmon, walleye, smallmouth bass, crawfish, freshwater sponges, and sea lamprey, to name a few. That buffet attracts raptors such as hawks and bald eagles and waterfowl such as ducks, swans, and geese. Share convivial conversations with other guests or delve into a captivating book as you look forward to yet another astounding sunset on the water.
Overnight: Ocean Navigator – (B,L,D)
Aug 12 | Detroit, MI. Detroit, commonly known as the "Motor City," is vibrant, progressive, and busting at the seams with charm. The West Canfield Historic District, is the only block in Detroit lined on both sides with well preserved Victorian homes and broad sidewalks. Corktown, the city's oldest neighborhood, has charming little  shops and great places to eat. If architecture and history are appealing, visit the Guardian Building. Built in the skyscrapers in the world. Detroit is the home of MOTOWN so to see where some of the greatest legends in R&B recorded their tunes, visit the Motown Museum. An optional premium experience at the Henry Ford Museum of American Innovation lets you chronicle the captivating history of the automotive industry.
Overnight: Ocean Navigator – (B,L,D)
Aug 13 | Cleveland, OH. Step off the ship onto what some call America's "North Coast" and discover why Clevelanders are so fiercely proud of their homes. Expand your mind at the world-class Cleveland Museum of Art, with over 45,000 works to explore. You can also feel the backbeat at the museum devoted to one of America's finest gifts to the world – the Rock & Roll Hall of Fame. An optional premium experience to Geauga County offers a glimpse into a simpler way of life with a visit to an Amish home for a traditional wedding feast.
Overnight: Ocean Navigator – (B,L,D)
Aug 14 | Niagara Falls (Port Colborne), Ontario/CA. The ship docks at Port Colborne, located on Lake Erie. The city traces its roots to the United Empire Loyalist settlements established in the area following the American Revolution. In the year 1888, American tourists from southern states began building vacation homes on the lakeshore of the western edge of the town. Described by the city as "Niagara's South Coast," tourism is important to Port Colborne's local economy. But most American Queen Voyages guests will consider Port Colborne as the gateway to Niagara Falls, which is approximately 45 minutes away by coach. Since its formation 12,000 years ago, the power and grandeur of Niagara Falls has been coveted by explorers, honeymooners, daredevils and the curious.
Overnight: Ocean Navigator – (B,L,D)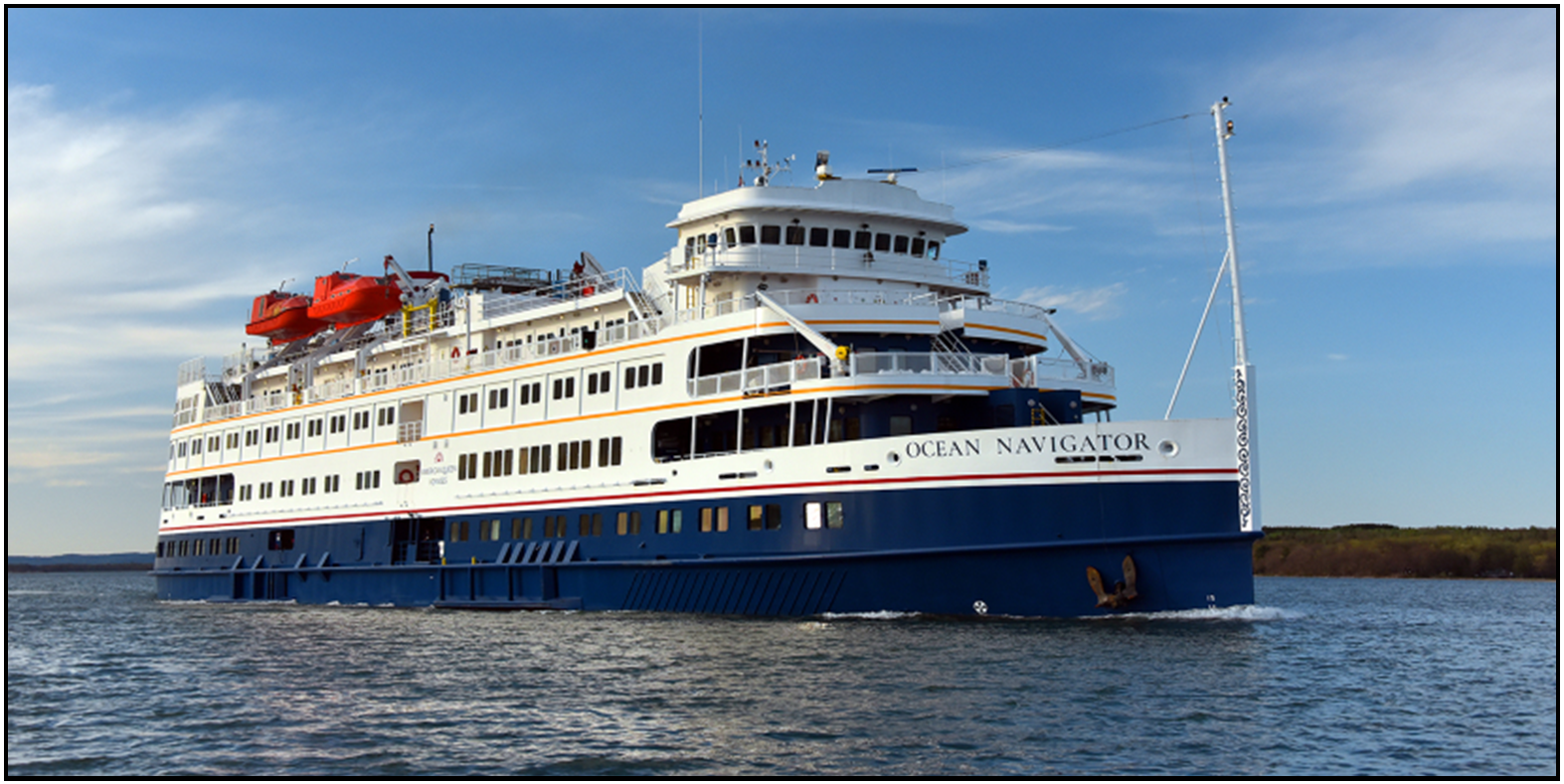 Inclusions:
Air fare to Chicago & from Toronto to back home
1 pre-night accommodation in Chicago incl. breakfast
9 days aboard the Ocean Navigator
All onboard meals, incl. both fine dining and casual cuisine
Complimentary cappuccino, espresso, specialty coffees, tea, bottled water, soft drinks, high quality list of House Wine, House Beer, House Spirits and House Cocktails throughout your voyage
Gracious onboard service from a friendly, all-American Staff
Acclaimed entertainment worthy of Broadway
Hop-On/Hop-Off Standard Shore Excursions (Premium Shore Excursions for more in-depth experiences are available at an additional cost)
Free internet while onboard
24 hour Room Service
Hotel taxes and Port-charges
Porterage of one suitcase per person
Prepaid ship gratuities
All gratuities for drivers & guides (except for Hop-On/ Hop-Off shore excursions)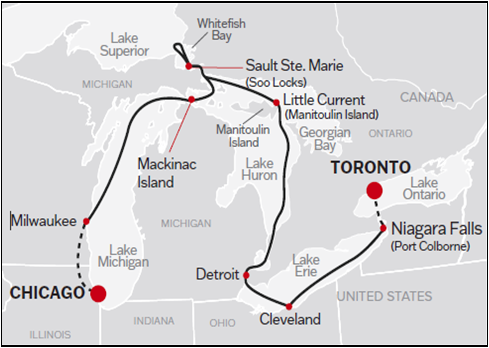 $750.00 deposit due when making a reservation
Final payment due is April 1, 2023
$250.00 non-refundable at the time of sign up. 50% non-refundable April 5, 2023
100% non-refundable May 5, 2023
Cash or Check Payments
Single rates vary and space is available upon request.
 An optional Travel Protection plan is available with coverage  for trip cancellation/interruption, see enclosed product flyer for more information.
A valid passport is required on this itinerary and must be valid for at least 6 month after returning back to the USA.