July 23 – 31, 2023 | 7-Day Cruise/Tour
Itinerary:
July 23 | Flight bound Minneapolis This morning, board your flight to Minneapolis. Upon arrival, a Universal Travel representative will meet you at the airport and assist with your transfer to the hotel, located in the city center.  After some time to relax in your room, […]
July 23 – 31, 2023 | 7-Day Cruise/Tour
July 23 | Flight bound Minneapolis This morning, board your flight to Minneapolis. Upon arrival, a Universal Travel representative will meet you at the airport and assist with your transfer to the hotel, located in the city center.  After some time to relax in your room, there will be time to visit with the AQ Voyage's friendly staff in the lobby  area. They will assist with  everything from general questions about your upcoming voyage to reserving premium experiences. Tonight, enjoy a welcome to Minneapolis dinner with your fellow travelers.
Overnight: Downtown Minneapolis, Westin or similar  (D)
July 24 | Minneapolis to Red Wing, MN – Embarkation After a leisurely breakfast this morning check out the hotel and enjoy a panoramic city tour. Discover the rich  history of Minnesota's Twin Cities, St. Paul and Minneapolis. From the comfort of a deluxe motor coach,  view sights such as downtown Minneapolis  skyscrapers, St. Paul Cathedral, Minnesota State Capitol, historic Summit Avenue in St. Paul, the Stone Arch bridge, and the picturesque Minnehaha Falls. After an included lunch, journey to Red Wing and embark on the beautiful American Queen, your luxurious floating hotel for the next 7 nights.
Overnight: American Queen – (B,L,D)
July 25 | Red Wing, MN  Red Wing was included on National Geographic Traveler's list of most historic places in the world. Discovered in the early 1850's, the lands were used mostly for harvesting wheat that would be  transported up the river. Later in Red Wing's history, the economy  began to flourish on the pottery industry, which became a main source of income between 1877 and 1967. Today the city offers endless opportunities to travel back in time and learn about settlers and travelers that occupied the land before today, or to admire the craftsmanship and  creativity of local artisans of both the present and the past. Also home to the famous Red Wing Shoes, this is a place you're going to love to explore.  
Overnight: American Queen – (B,L,D)
July 26 | La Crosse, WI Named by explorer Zebulon Pike, who saw a group of people playing a game with sticks that looked like a cross, La Crosse is now a popular tourist stop. Filled with statues, architecture, and an exquisite view of the river, this river city is an artists dream. Like much of Wisconsin, La Crosse became heavily involved with the lumber industry in the mid-1800's until the decline of the forests throughout much of Wisconsin took its toll. But in the wake of the vanishing lumber era, La Crosse became a city renowned for its beer making, with around five breweries operating in La Crosse near the turn of the century. Influences from far-off destinations such as Bantry, Ireland, and Bavaria, Germany, woven into the  history and charm of this scenic port, will certainly stir a traveler's soul.
Overnight: American Queen  – (B,L,D)
July 27 | Dubuque, IA One of the few large cities in Iowa with hills, Dubuque is an extremely popular tourist destination, featuring unique architecture and desirable river location. From America's River Project in the Port of Dubuque that transformed the riverfront to the revitalization of the historic Main Street, the ongoing evolution of the Historic Millwork District downtown, and the impressive and expansive westward growth, Dubuque remains a remarkable city along the mighty river. Victorian meets Bohemian in this ever-growing Mississippi River gem that's sure to leave dazzling memories. The National Civic League has named Dubuque as a top All-American City three times in just six years!
Overnight: American Queen – (B,L,D)
July 28 | Bettendorf, IA Discover one of the marvels on the Mississippi River. The Quad Cities combine the cultures of Rock Island and Moline in Illinois, and Davenport and Bettendorf in Iowa. This fun and friendly area is home to hundreds of music, food, and art festivals. Blues, jazz, rock, and many other music stylings can be found not only at the festivals but also at music venues in the downtown areas. Museums that tell the history of the area and feature international and national traveling exhibits will also keep you busy as over 20 museums are scattered throughout the Quad Cities and feature everything from Buffalo Bill Cody and German immigration to fine art collections and Native American Indian history. Come for a visit and experience Quad Cities on the mighty Mississippi River. Their Midwestern hospitality will make you feel right at home.
Overnight: American Queen – (B,L,D)
July 29 | Burlington, IA Explored in 1673 by Pere Jaques Marquette and Louis Joliet, the land that is now Des Moines County changed hands from France to Spain, back to France, and finally to the United States, as part of the Louisiana Purchase. Today charm indwells this city. Swaggering trails showcase flourishing vegetation, neighborhood hangouts offer upscale dining options, and steepled churches rich in architecture abound. Pleasure awaits each visitor in this city of contrasts. Quiet strolls through courtly streets in historic districts are juxtaposed by boisterous thespian artistry inside Capitol Theater. The drumming heart of the city is soothed by the scenic backdrop of the Mississippi River. Lover of all seasons, connoisseur of culture, friend to foodies… Welcome to Burlington!
Overnight: American Queen – (B,L,D
July 30 | Hannibal, MO
Hannibal could be described as ordinary, but the father of American literature would beg to differ. The town, with style and dignity, comes to life in the writings of Mark Twain. People, entities, and livelihoods of Hannibal's past endure within the pages of masterpieces such as "The  Adventures of Huckleberry Finn" and "Life on the Mississippi," and the town's preservation efforts allow our quests to step right onto the page where Twain left off. Today the river stretches north toward country that's almost as wild and beautiful as it must have been then and is still enlivened by the coming and going of rivercraft. This exuberant port marks the start of adventure for all who visit.
Overnight: American Queen – (B,L,D)
July 31 | Alton (St. Louis) MO | Home
Early this morning the American Queen docks in Alton. After a leisurely breakfast, board your motor coach and transfer the short distance to the St. Louis airport for your flight home. Fond memories of Mark Twain's Mississippi River cruise will last forever.  (B)
*itinerary is subject to change
Inclusions:
Airfare to Minneapolis
Airfare from St. Louis back home
1 pre-night accommodation in Minneapolis including breakfast
Dinner in Minneapolis on pre-night
7 nights aboard the American Queen
All onboard meals, incl. both fine dining and casual cuisine
Prime Choice USDA Prime Beef and Cold Water Lobster dish EVERY evening
Complimentary cappuccino, espresso, specialty coffees, tea, bottled water, soft drinks, high quality list of House Wine, House Beer, House Spirits and House Cocktails throughout your voyage
Gracious onboard service from a friendly, all-American Staff
Acclaimed entertainment worthy of Broadway
Hop-On/Hop-Off Standard Shore Excursions (Premium Shore Excursions for more in-depth experiences are available at an additional cost)
Free internet while onboard
24 hour Room Service
Hotel taxes and Port-charges
Porterage of one suitcase per person
Prepaid ship gratuities
All gratuities for drivers & guides (except for Hop-On/ Hop-Off shore excursions)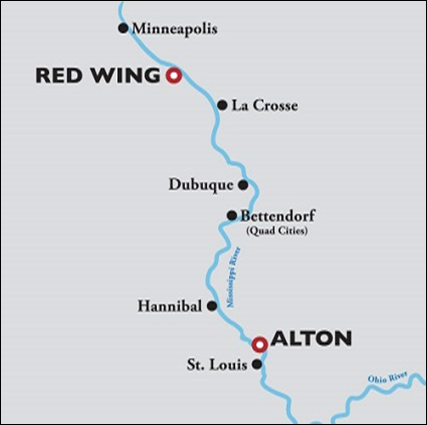 $750.00 deposit due when making a reservation
Final payment due is March 11, 2022
$250.00 non-refundable at the time of sign up 50% non-refundable March 15, 2022
100% non-refundable May 15, 2022
Cash or Check Payments
Single cabins are available upon request
 An optional Travel Protection plan is available with coverage  for trip cancellation/interruption, see enclosed product flyer for more information.
A valid passport is required on this itinerary and must be valid for at least 6 month after returning back to the USA.